It's easy to get caught up in the "make money online" frenzy.
False claims are made every day by internet marketing "gurus."
Those of us who've been around a while know that there's a self-styled, online "A" list that taints itself with sleazy tactics and recycled hype. While
there are plenty of people who genuinely make a good living on the internet
using methods like
affiliate marketing
,
information product
sales, and subscription services, we're hoping you
don't fall for the cheesy pitches
that are out there. Instead, have a realistic, long-term outlook, pay your dues and put some work in.
Be the tortoise, not the hare.
Pete's progress with
Zazzle
is a great case in point. We've had
our Zazzle online store
(and I use "we" very liberally, because he is the one that does all the work on it, I just criticize :) ) for over three years, about the same amount of time as we've been blogging. Slowly, consistently, and strategically, Pete has parleyed a couple of beginning "just for fun" products into a group of online shops. While it doesn't (yet) pay our rent,
our income from Zazzle keeps the lights on and makes the car payment.
We thought you'd be interested in some specifics:
We "discovered" Zazzle quite by accident. After setting up our store,
we posted a couple of products and then kind of forgot about it.
A few months later, one of our bumperstickers started selling like crazy after having been featured in the Zazzle Marketplace. We made about $50 that day and were hooked.
For the next couple years,
Zazzle became a part-time job.
Working evenings and weekends, we posted more products, learned how to promote our store and even write a little html code for our store. (This is easier than you think).
Happy Dancing Christmas Snowman Vintage Postage
Today we have around 4,000 designs and over 15,000 products.
This number is much larger than at the beginning of the year due to a blitz effort Pete made over this summer. Between June 15 and August 15 (after he quit his job and we began our foray into location independence), he added about 1500 designs, and he is continuing to work at this pace.
Previously, we didn't get enough Christmas products up soon enough to take advantage of the timing. Last year, we had many more. This year,
Pete's more strategic approach has led to companion products
such as matching stamps, cards, address labels and stickers, for example. Our total number of products has therefore grown more exponentially.
Our first Zazzle money came on 8/1/08 for $91.69 and since then
we've received a payment every month.
The lowest payment was $27.59 and the most we ever made in one month was $993.89. That payment came just before Christmas. The timing could not have been better. Our earnings page from Zazzle shows just shy of $9,000 over three years, with most of the income occurring in the last two years.
Like the proverbial tortoise, we have achieved momentum.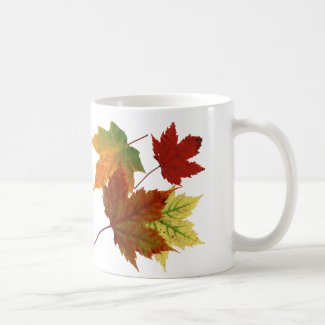 Autumn Leaves Coffee Mugs
Now we know there are
some people who will dismiss this effort
as too much work for peanuts and continue to seek bigger payoffs with less effort. It's all in your perspective. Once a product is "up" in the shops, it's there forever until you take it down. As opposed to a traditional retail model, Zazzle's on-demand production guarantees we won't ever have excess inventory. Instead, each additional product creates another opportunity to for someone to buy. Our customers receive
a legitimate, tangible product.
When we were first married,
I took a part-time job in the evenings to earn extra money.
I worked from 5 pm to 10 pm scoring standardized tests for $11 per hour. It was an eye-opener. Rows upon rows of others down on their luck or lifetime underachievers toiled away in front of backlit computer screens into the night, raising our hands for permission to take a break.
This was tedium personified
and I was one tired puppy at the end of the week. My net paycheck - in the neighborhood of $150 - seemed like an unfair trade based against time spent and fatigue.
Online opportunities put this kind of drudge work in its proper place.
Zazzle is something that we can do from anywhere
there is an Internet connection. Sales have been growing now that we have more than a part-time effort behind it. Zazzle is not a
get rich quick scheme
.
Like any endeavor, your results will depend on what you put into it.
We didn't get our first payment until six months after we started. We are not unique. You can easily be earning an extra $25 - $50 per month in a short amount of time, by learning skills that will serve you well on your own pathway.
Be the tortoise, not the hare.